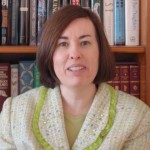 Carmen Ferreiro is the owner of Espresso Latte Translations.
Originally from Spain, she holds a Ph.D. in Biology for the Universidad Autonoma de Madrid and worked in research for over ten years in Madrid and U.C. Davis, California.
She has been a freelance translator/writer since 2000 working mainly in the Medical, Pharmaceutical and Life Science areas.

Translator
As a translator, she has worked, among others, on clinical trials documents, system learning manuals for the introduction of new drugs, drug profiles, brochures for new surgical materials, patient surveys, research studies, patient's consent forms, market surveys for pharmaceutical companies and universities, and brochures on health plan benefits programs for insurance companies.
Author
Carmen Ferreiro is the author of four non-fiction books, (Mad Cow Disease, Ritalin, Heroin and Lung Cancer) for Chelsea House and two fiction books: Two Moon Princess (Tanglewood Press) and Immortal Love (Crimson Romance).
Editor
As a member of the Bucks County Writers Workshop for seven years, she critiqued hundreds of stories and edited full manuscripts.
Professional Affiliations
Carmen Ferreiro belongs to the Society of Children's Book Writers and Illustrators (SCBWI), ATA (American Translators Association) and is an active member of the DVTA (Delaware Valley Translators Association) Blog/Social Networking Committee.
Cat Tools
Wordfast Pro 3.4.5